Palm Sunday - Easter 5 Minute Family Devotional
Learn why people laid down palm branches while shouting, "Hosanna!" when Jesus rode into Jerusalem by watching the Palm Sunday devotional.
Stream the entire Easter Week Devotional series on Minno.
We pray this journey helps bring your family closer to God and each other! If you have feedback, ideas or questions about the 5 Minute Family Devotional, reach out to us on Facebook—we'd love to hear from you!

For a limited time, get access to this 5 Minute Family Devotional Plan on our
YouTube channel!

. . . . . . . . . .
Easter Week 5 Minute Family Devotional Episodes on Minno
Start watching the devotionals on Minno here.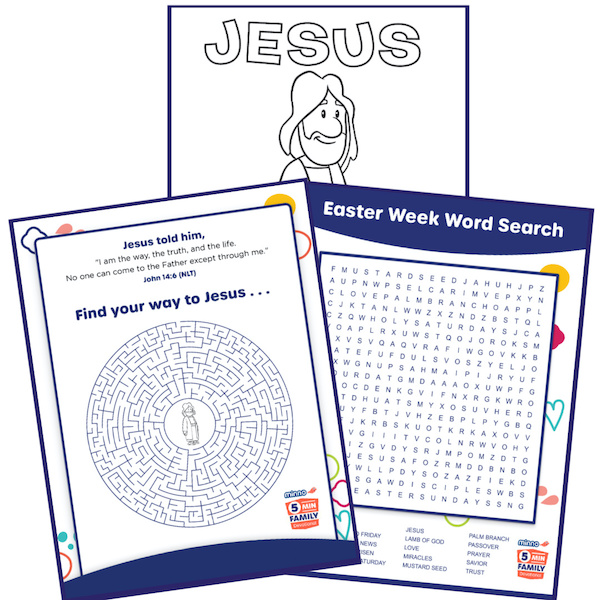 Download our Easter Week 5MFD Coloring and Activity Pack for coloring sheets, a word search, and maze to engage your kids as they learn about Easter.
. . . . . . . . . .
If you're already a Minno subscriber, watch now!
Not a subscriber? What are you waiting for?!
Sign up for your free trial HERE.
---
---
Looking for additional resources to share during your devotional time? Here are a few ideas we've pulled together:
1. Read the full Bible story here: Matthew 21:1-11
2. Share these additional discussion questions:
Jesus was fulfilling an Old Testament prophecy by riding a colt into Jerusalem. We saw the original prophecy in the verse from Zechariah. What are other Old Testament prophecies that Jesus fulfilled? (Here are a few that you can look up in your Bible: Micah 5:2, Isaiah 9:6, Isaiah 53:3)
The Jewish people thought that Jesus was coming to be their earthly king, that he would overthrow the Romans! But God had a very different plan for Jesus. Sometimes God's plans don't make sense to us. Can you share a time you couldn't figure out what God was doing in your life but then you understood later? (Parents, this is a great time to share with your children about how God has worked in your life. Being open about your faith journey with your kids will help them see what a Christian walk is really like! It's not always easy, but we can trust that God is always faithful.)
3. Download our Easter coloring pack!
---
Originally published on April 06, 2017