Tuesday - Easter Week 5 Minute Family Devotional
Tuesday of Easter Week, we're talking all about how Jesus taught about the Kingdom of God and how the Kingdom is like a mustard seed. Stream the entire Easter Week Devotional series on Minno.
We pray this journey helps bring your family closer to God and each other! If you have feedback, ideas or questions about the 5 Minute Family Devotional, reach out to us on Facebook—we'd love to hear from you!

For a limited time, get access to this 5 Minute Family Devotional Plan on our
YouTube channel!

. . . . . . . . . .
Easter Week 5 Minute Family Devotional Episodes on Minno
Start watching the devotionals on Minno here.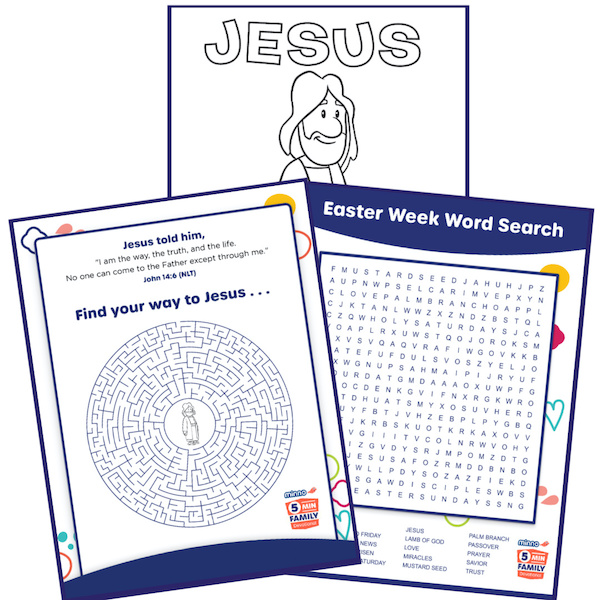 Download our Easter Week 5MFD Coloring and Activity Pack for coloring sheets, a word search, and maze to engage your kids as they learn about Easter.
. . . . . . . . . .
If you're already a Minno subscriber, watch now!
Not a subscriber? What are you waiting for?!
Sign up for your free trial HERE.
---
---
Looking for additional resources to share during your devotional time? Here are a few ideas we've pulled together:
1. Read the full Scripture passage here: Mark 4:30-32
2. Share these additional discussion questions:
When Jesus taught about the Kingdom of God being like a mustard seed, he was using a parable. Do you know what a parable is? (It is a short story that uses an unrelated example to communicate a truth.) Jesus taught using parables. What are some other parables Jesus taught? (Here are a few you can look up in your Bible: Matthew 13, Matthew 20:1-16, Luke 15:11-32)

Jesus came to proclaim that the Kingdom of God is here! As we think about what it means to be citizens of the Kingdom of God, how do you think we should live? How should we treat other people? Who is our king?
3. Download our Easter coloring pack!