Since my kids were babies, we've been using the three Christmas gift plan that follows the wise men and the treasures they brought to baby Jesus. We have loved this gift-giving strategy because it not only keeps things simple, it reinforces the Christmas story and points the kids back to Christ in the midst of their gift-receiving. Everyone gets three gifts.
Gold – the big gift on their wish list
Frankincense – something for their body
Myrrh – something for their spiritual development
Three gifts. If it was good enough for Baby Jesus, it's more than enough for us.
I love this plan but often, I have found it challenging to come up with new ideas for our myrrh gifts. There are many, quality Christian children's products on the market but we want to be creative and find ideas that go beyond a simple book each year. At the heart of this gift is the desire for our kids to know the Bible and ultimately, know Jesus. In our search for gifts that will grow their faith, we have found several resources that will do just that.

Fast paced and full of Bible-based fun, What's in the Bible? series is a tool your kids will love. Volumes 1-13 will take your child on a journey from Genesis through Revelation. Including fun music, interesting characters and information your kids will grasp without even realizing it, What's In The Bible? is a resource that will build the foundation of faith in your home.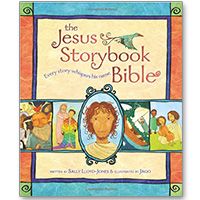 This well-loved children's Bible includes beautifully unique illustrations. Author Sally Lloyd-Jones has an incredible gift for storytelling that will invite your child into the adventure of the Bible.
The Minno App is a faith-based alternative to other TV networks for kids. Minno provides hundreds of hours of Christian TV Shows & movies for families to engage online in a safe environment. Minno was started by VeggieTales® and What's in the Bible? creator Phil Vischer – the most trusted voice in Christian children's entertainment. He and the Minno team are working with the best voices in Christian family entertainment to continue to provide new and classic shows the whole family will love.
With videos and activities for kids that will keep their interest, teach them the Bible and perhaps give mom and dad a break from time to time. A Minno subscription is a wonderful gift for the whole family!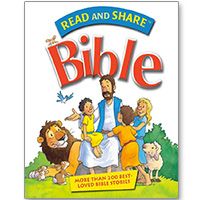 Including activities to encourage scripture memory and reading comprehension, this Bible storybook is a wonderful tool for children. With over 200 stories in simple retellings, the Read and Share Bible encourages kids to read the Word, know the Word and share the Word.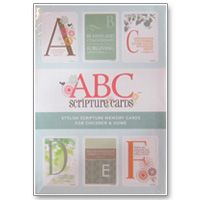 Featured on The View, these adorable scripture memory cards, created by a mom who desired to build her kids' faith, are the perfect gift to encourage your child to hide God's word in their heart. Each set includes 26 5×7 cards, an easel for easy display and a magnet to display one card at a time (for focused memorization).
Whether you follow a similar gift-giving strategy or simply desire to put faith-building presents under the tree this year, these resources are sure to point your child to Jesus.
What are some of your favorite resources for helping your kids know the Bible?
Stop by our Christmas Page to discover more ideas for gifts and serving other this Christmas!
For more ways to celebrate and learn about Christmas, visit one of the pages below!